Next month, the Banyan Water team is excited to head to Baltimore for our first AASHE Conference. We're looking forward to learning more about the unique challenges that campuses and educational institutions face in approaching sustainability.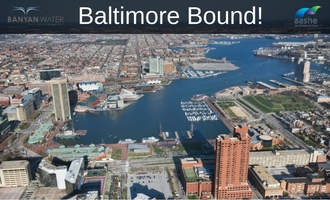 Are you looking to make your campus more sustainable? Our smart technology can help save money and conserve water by:
Managing irrigation, creating 50-70% water savings on irrigation water
Monitoring cooling tower water use, alerting you when your system is showing signs of a problem
Tracking water across your campus to notify you more quickly of any leaks
Come visit us October 9-12 at the Banyan Water booth (booth 615, near the big AASHE booth). You can also register to win a $100 American Express gift card.
Here are some of the things we hope to see and do while we're out and about in Baltimore:
Eat blue crab. We hear LP Steamers is a great place fairly close to the convention to sample some Baltimore-famous fresh blue crab.
Meet other Texans focused on sustainability. At the Texas Regional Alliance for Campus Sustainability Networking Session, we look forward to hearing about the unique water concerns Texas campuses face. These issues vary widely even between regions in the state.
Cheer for the Orioles. The hotel and convention center are right next to the Orioles' stadium. If they make it into the postseason and we're lucky enough to have our schedules line up, we're hoping to catch a game.
Hear Keynote Speaker Marc Edwards. He played a key role in directing attention toward the water crisis in Flint. Naturally, as "water nerds", that issue is especially relevant to what we do every day. Marc will be speaking about the challenges scientists face in seeking to engage in research for the public good, a topic that should be of interest to all of us.
Tour the USS Torsk SS-423. This historic submarine was commissioned in 1944 and served in the Pacific during WWII. It is now available for tours. The sub is located in Baltimore's Inner Harbor area, which is brimming with nearby museums and other maritime history attractions.