Download Leak Detection Report and Case Study.
Leaks are silent water-wasters that can go undetected for months at a time. Oftentimes, facility or property managers are not alerted to leaks until a costly water bill lands on their desk.
Leak detection is serious business.
Depending on the size of a leak and the time of year, a leak may not even be detected. This can add tens of thousands of dollars onto a facility's or property's water bill. This is especially crucial at this time as water rates continue to rise year-over-year throughout the U.S.
The smaller the leak, the smaller the chance it will be detected, prolonging its wasteful effects on your water bill, operational costs and your property's overall water usage. Small percentage increases in water bills or usage numbers can easily be written off as anomalies.
Banyan Water analyzed its nearly 293 detected leaks in 2021 to determine average leak size, estimated savings and more.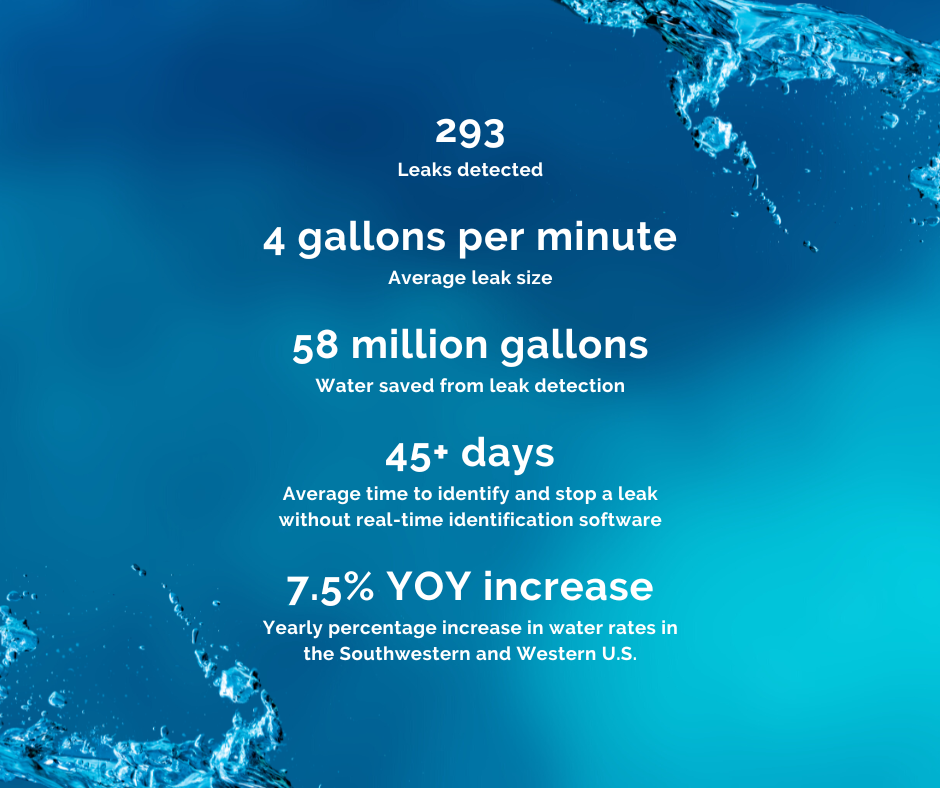 What is total water management?
Your monthly water bill should not be your only window into your property's water usage. And with the rapid increase of water rates, now more than ever is the time to manage your facility's water usage.
While most facilities managers only see a few water-related data points per month on their properties, Banyan collects thousands while monitoring and analyzing water systems.
With smart water technology, facility managers can detect leaks in real time, identifying and stopping leaks before incurring detrimental water loss.
How Banyan Water Central helps asset owners make informed decisions
Banyan Water Central™ is proprietary software that gathers data from a variety of sources to provide a complete picture of water on a property. The software collects data points that allow asset owners to make important decisions about capital investments and serves as the hub to manage water usage.
The portal provides data, analytics and insights about water use on any and all properties in a portfolio.
Banyan Water Central:
Provides current and historical water use and rate information
Displays data on a dashboard, offering key information at a glance
Relevant tips and articles
Has a mobile-friendly interface
Provides budget and water-use calculation tools
Provides portfolio management tools to review multiple properties at once
To learn more about Banyan Water or to book a demo, click here.