YOUR HUB FOR WATER TRACKING & INSIGHTS
Banyan Water Central™ is the software tool for professionals who want to understand and control their water use. It is an intuitive portal that displays data, analytics and insights about water use on one property or an entire portfolio of properties. It can be used on its own or in combination with our outdoor, indoor, or cooling tower solutions, depending on your unique needs.
POWERFUL INSIGHTS AT YOUR FINGER TIPS
Tracking and reviewing water-related data was once a manual process, making it time-consuming and ineffective. Using Banyan Water Central, executives are able to view years of detailed water-use data at the touch of a button, with anomalies and savings opportunities automatically highlighted.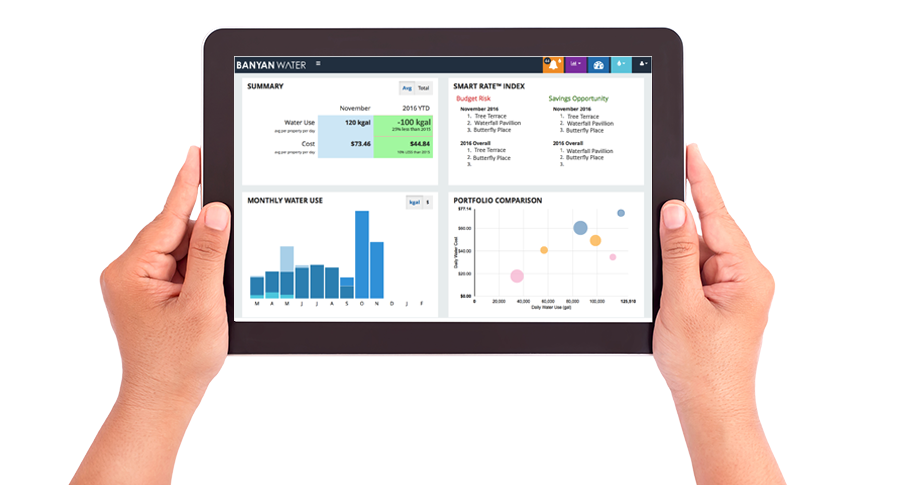 Dashboards offer key information at a glance

Current & historical water use

Rate information

Relevant tips and articles

Mobile-friendly interface

Budget and water-use calculation tools

Portfolio management tools to review multiple properties at once
BRINGING IT ALL TOGETHER
Banyan Water Central gathers data from a variety of sources to provide a complete picture of water on your property. While most facilities managers only see a few water-related data points per month on their properties, Banyan collects thousands. The spectrum of information ranges from weather conditions to water rates to property-specific inputs. Access to this new level of insight about water use allows users to make informed, data-driven decisions. Banyan Water Central collects and analyzes every piece of information available so that you don't have to.
DESIGNED WITH
 

PORTFOLIO MANAGERS IN MIND
Banyan Water Central is designed for professionals who manage large real estate portfolios. Banyan
Water Central has a suite of features and reports to meet your needs.
Toggle between viewing a single property or an entire portfolio

Understand the unique rate environment for each of your properties

Display properties in need of attention
Surface the most impactful water-saving opportunities in your portfolio

Calculate benefits of capital improvements on one or multiple properties

Create performance benchmarks to ensure all properties are operating efficiently