What you should consider before you landscape
Achieving a perfect landscape can be challenging. And landscaping for large commercial properties can be costly. Creating the right environment, no matter your property type, is important to the people in the community and to your bottom line!
The design you choose for your landscape should take into consideration how your community plans to use the landscape. And, you'll want to factor in the environment your landscape will live in.
Landscapes not only enhance curb appeal for a property, they contribute to the overall wellness to a community. So, when considering landscapes, focus on four things: use, climate, environment and amount of water required to sustain it.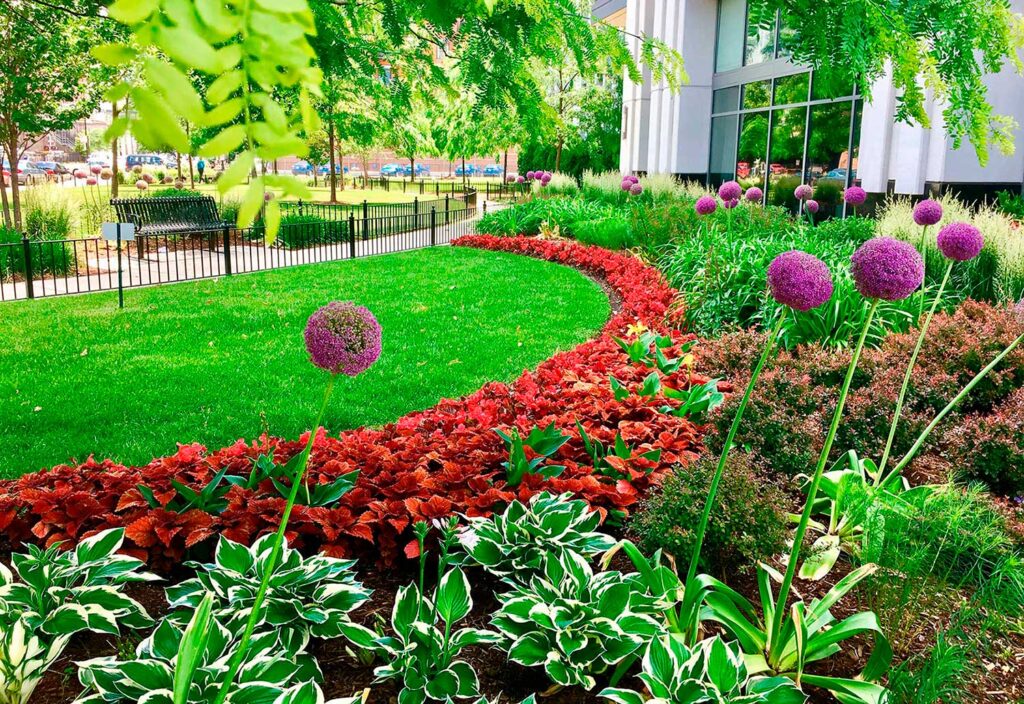 How to design the right landscape
First, ask yourself, how will people use the landscape? Will there be kids and pets utilizing the grounds? Are you creating a place for cooling and shading? Is your landscape there to aesthetically enhance your buildings or structure?
Shade trees can keep your landscape cool during hot summer months. A landscape with colorful flowers and carefully placed shrubs can provide curb appeal. And lawns can be great for kids to play on or pets to run around on. However, these types of lawns often need more maintenance.
Lawns require pesticides, herbicides, fertilizers, and carbon (mowers, trimmers, blowers, etc.) If reducing the carbon footprint and protecting the environment is important to you, large lawns may not be the best solution.
Large lawns also require a lot of equipment. If you own a large multi-housing property, acoustic comfort might be something to think about. We recommend utilizing landscapers that specialize in sustainable landscape practices. To keep the sound of equipment low, consider using electric equipment.
If the turf is being utilized for recreational purposes (sports, dogs, picnics), use something that can withstand a lot of use. So, if the only time it is walked on is when it's mowed, then an alternative landscape application might be best.
Aside from how you plan to use the landscaping, it's important to factor in your local climate. Extreme heat and drought can wreak havoc on large, lush gardens. How much rainfall does your area receive annually? Is the climate hot or cold for long periods of time? With the increase in water rates across the country, now more than ever it's important to determine a water budget prior to landscaping. Determine your water budget here.
Plant choices will depend on your region. You'll want to plant water-efficient plants. (Remember water rates are increasing!) Not sure what to plant in your area? Get information here.
And finally, use smart irrigation. The right irrigation will determine the success of your landscape and the cost to maintain it.
Types of landscapes
Xeriscaping, also known as water-conserving landscaping, drought-tolerant landscaping, and smart scaping, uses indigenous plant materials intended to keep water use low on properties.
Before you xeriscape, determine what you want out of your landscape.
These water saving modifications do not work in every climate, research what works regionally based on water restrictions, plant types and property land use needs.
If you're considering xeriscaping, first define your goals so your landscape can meet expectations.
Themed gardens are growing more and more popular. They can be aesthetically pleasing and used for educational purposes or enjoyment. Some schools and municipalities are even opting for themed gardens. With the right plants, a garden can attract butterflies, bees and birds, which can be entertaining and educational.
Others can be used to grow edible plants and flowers. Or you can opt for a fragrant garden. No matter your choice, all should have an emphasis on native or drought tolerant plant types.
Why it's important to consider native plants
Native plants are plants that have evolved over thousands of years in a particular area. Native plants also know how to adapt to their climate and environment. Using plants native to your region will contribute to your landscape without negatively impacting your budget.
There is also a lot of evidence that native plant types help stabilize hillsides and control erosion. Hillsides and buffer areas between properties provide ample space and setting for native landscape restoration.
Partnering with local land conservation groups and landscape designers specializing in native landscapes provide a wealth of information.
Using SMART irrigation saves water, money and the environment
Once you've selected the right landscape for your business, you'll need to think about how to keep it irrigated without breaking the bank.
Did you know that irrigation water can be the biggest source of wasted water on a property?
Landscapes are often over-watered, contributing thousands of dollars to operating budgets.
And like previously mentioned, water rates continue to increase year after year. With unprecedented drought and extremely high temperatures, we're seeing an increase in water demand nationwide.
And in some areas of the country, water restrictions are in place. Water demand, increasing rates and overwatering can deplete a water budget quickly. That coupled with water restrictions requires a SMART water system.
What is SMART irrigation?
A perfect landscape can not sustain without SMART irrigation. SMART irrigation leverages technology to maximize irrigation efficiency. The goal is to reduce water waste, while maintaining the health and the quality of the trees and plants.
Banyan Water provides total water management to any size commercial property. And you get a holistic view of an entire irrigation system in real-time.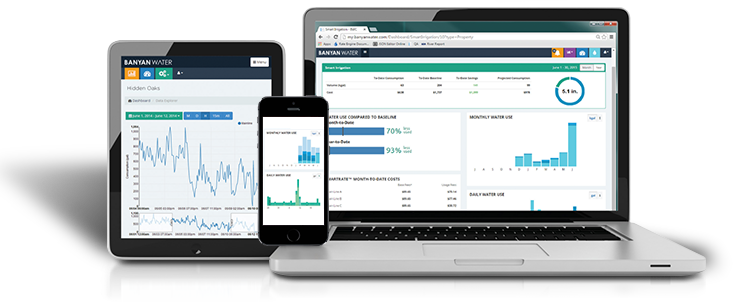 Banyan Water's Irrigation Insight® uses the most advanced technology available to actively manage water on a property, creating sustained water savings without sacrificing the health of the landscape.
We work with you to analyze your property and current water use to determine baseline water use and the potential for water savings. Once the goals are agreed upon, we install our IoT devices and weather tracking technology on the existing irrigation system.
Based on the property's needs, our software and water conservation managers create and manage watering schedules. Based on changing needs and weather patterns, the schedules are updated. Our water managers ensure that your property receives exactly as much water as it needs to stay healthy. And, when new plants are installed, we work with landscapers to give real-time adjustments on water needs.
Leaks can be the biggest water wasters of all. If leaks are detected across the property, we send alerts immediately and remotely shut off water in emergency situations. Our real-time leak detection, auto-shut off and alerting has saved our clients over 500 million gallons of water in 2021 alone!
You can access the property's real-time water use and receive a report each month on actionable insights.
And our technology has met the EPAs WaterSense Certification requirements.
To learn more about Banyan Water, click here.
To see a demonstration of our software, click here.