The National Apartment Association's Education Conference and Exhibition is one of the Banyan Water team's favorite events to attend each year. We're planning our schedules for the 2016 convention. Here's what we've put on our must-do list so far: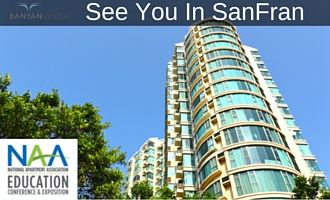 Banyan Water is looking forward to meeting you at NAA 2016.
Breakout Session "Return on Energy: Harnessing the Power of Utility Data"
At Banyan Water, we see firsthand every day the power of measuring and understanding utility data. You can uncover hidden costs, find new opportunities for savings, and make your properties more efficient. We're looking forward to seeing what some of our peers in the energy sector are doing with the data that they're collecting during this session (Thursday at 11:30).
The Game Changer Panel "Sharing Underused Assets – New Business Opportunities Emerging in Multifamily"
Long title, but a great topic. How are technology and the sharing economy changing the "highest and best use" of multifamily assets? The panel is full of innovative leaders like Jaja Jackson, the Director of Global Multifamily Housing Partnerships at Airbnb and Alex Enchin of WhereiPark. (Thursday at 10:15)
Showing off our Latest Work and Meeting you in Person
We've been working on some pretty exciting new features for Banyan Water Central software, such as new capabilities to help property managers and portfolio managers understand their water use and water savings opportunities at the touch of a button. No more sorting through spreadsheets to understand which water saving investments make the most sense – our technology does the work for you. Swing by our booth (number 4602 in the North Exhibit Hall) to see what we've been working on. Even if you already know about Banyan Water's products, we always enjoy seeing customers in person. Come by and say hello!
Chip & Joanna Gaines of HGTV's Fixer Upper
We'll admit it; we're enamored with what these two creative professionals can do with a not-so-great house to make it someone's dream home. They're speaking Friday at 3:15 in the general session.
Whirlpool's Learning Zone Talk "What You Need To Know About Appliances for an Aging Population" 
Whirlpool has been a leader in water-efficient appliances. We are always interested to see what other innovative companies are doing with water-saving technologies. Also, learning about how to serve the rapidly aging population in the U.S. sounds like a good plan to us. (Friday at 10:15 in the Learning Zone)
San Francisco!
We're thrilled to visit the city and spend a little time sightseeing. A Banyan Water team member who lives in San Francisco gave us these spots as recommendations:
We all hope to see you at the NAA conference. Stop by the Banyan Water booth or send us a note if you would like to connect.