Have you seen your water bills increasing significantly over the past several years? If so, you're not alone. For many, the increase in the cost of water is outpacing other utility bills. What are you doing to plan for this rapid increase in operating costs?
Across the country water rates are rising at a surprisingly high rate. In a 2015 study, Circle of Blue found that "the average monthly cost of water for a family of four using 100 gallons per person per day climbed 6 percent [between 2014 and 2015]". Many commercial water users are experiencing even higher increases due to different pricing systems.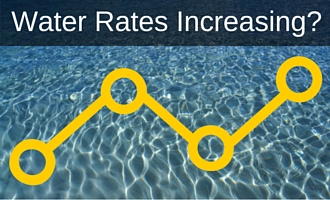 Understand the many causes of increasing water rates
In contrast, during the same period, the consumer price index rose just 1.8% (not including the food and energy sectors), and average electric rates increased by about 1.2%.
"We expect water rates to continue to grow above inflation for some time. We don't see an end in sight." –  Andrew Ward, Director of U.S. Public Finance, Fitch Ratings
Of course, different cities' water prices are going up at different rates and for different reasons. The Circle of Blue study mentioned above found that Atlanta and Seattle had the highest monthly water rates, whereas Memphis and Salt Lake City were among the lowest surveyed.
Why the steady increases?
There are a number of reasons why rates are increasing. Chief among them, in most cities, is an aging water infrastructure in need of constant maintenance and repairs. The cost of updating water systems in various cities is overwhelming some utilities, which have resorted to raising money through new billing systems and fee structures. Other factors impacting the price of water include:
Stricter water standards, which require systems to be upgraded
Growing populations that need more water and, in turn, more infrastructure to deliver that water
Unpredictable weather including floods and droughts
Conservation efforts that successfully reduce water use, thereby reducing water utilities' overall income
Keys to Managing Water Costs
Understand Your Usage
Information is power. Most property owners and property managers don't know how much water they're using or where they might be able to cut back in order to decrease their bills.
There are a few ways to start gaining insight and identify areas for savings. Many utilities offer data on water use that might be helpful. Does your utility have a program or app that might give you more information about how much water you're using? Could you adopt a flow monitoring solution so that you can see when and where water is being used on your property?
Manage Common Water-Wasters
Take care of areas that are over-using water unnecessarily. Some common culprits are:
Leaky pipes – Whether they're part of your irrigation system or inside buildings, even small leaks can waste a tremendous amount of water. Does your water meter move even when there should be no water being used? If so, you probably want to investigate a leak. A non-invasive water flow meter combined with active monitoring can be a good way to detect and repair leaks before they cause a crisis.
"An irrigation system that has a leak 1/32nd of an inch in diameter (about the thickness of a dime) can waste about 6,300 gallons of water per month". – EPA's WaterSense
Over-irrigation – When you see a dry spot in your grass, is your natural reaction to immediately give that spot (or all of the grass) a lot more water? It's hard to calculate exactly how much water is needed to keep your landscape healthy, but at Banyan Water, we often see properties using about 50% more water than they need to keep their landscape healthy. If you're irrigating a large property, try gradually cutting back on the duration of watering times and confirming that you're watering at the right time of day, usually very early in the morning.  Notice how it impacts (or doesn't impact) your landscape health.
Inefficient fixtures – Monitor indoor water use and the fixtures that you have currently installed. With water rates shooting up, investing in low-flow showerheads or fixing leaky faucets make more sense now than ever.
Understand Your Bills
Many property and facility managers pay their water bills without ever fully understanding them. Does your utility have fixed fees? How is your water bill calculated? Will you move into a different pricing tier if you use too much water? Read 'Average Water Bills? There's No Such Thing' to understand the various ways water bills are calculated.
Even a quick review of your bills may reveal some opportunities for saving on water costs in the future.
Plan for Increases
Like any other item in your budget, it's a good idea to plan for costs to increase over the next several years. With average water rates increasing by 6% between 2014 and 2015, it's prudent to put extra cushion in your budget for water. Your city may be able to tell you about rate increases specific to your area.
Consider Investments in Conservation
As water costs go up, investing in systems that help you conserve water becomes increasingly practical. Five years ago, spending money on water-saving measures may have had a longer pay-back time. But in today's market, water savings can offset the cost of improvements such as a smart irrigation system or new fixtures much more quickly.